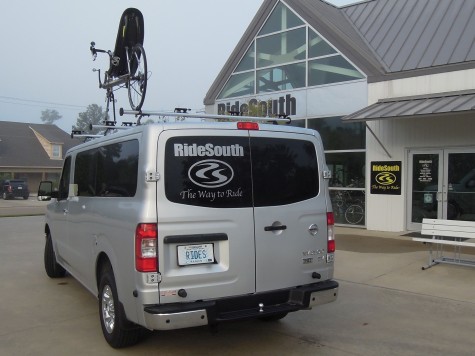 As the sun rises this morning, we are presenting the new RideSouth Bus! You will see us at the shop, around town and on ride & kayaking events everywhere! We can transport bikes, velomobiles, kayaks and more importantly . . . up to twelve people! The versatility is amazing! Look for us on the Natchez or Bust Ride next weekend, October 19! There is a sign-up form on our website under Ride Schedules. Some folks have already found it!
Also, next weekend, the Trail Manager of the Tanglefoot Trail plans to have the opening ceremony on Sunday in Houston, October 20 at 1:00 PM. There is another ceremony Sunday afternoon in Pontotoc at 4:00 PM. If any of you want to ride up to Houston on Sunday morning (after the NOB Ride on Saturday!) and Tackle the Tanglefoot, the bus is leaving at 9:45 AM! Please RSVP.
We hope you have been riding a little and we encourage you to join us this Saturday morning at 8:00 AM (tomorrow) at the RideSouth shop for an old fashion Bread Ride! That's right, we have some bread to bake and we need you to help us eat it! We will ride the Pelahatchie Bay area on trails and scenic drives! We look forward to tomorrow and every New Day! We hope you do, too!
A special note, the RideSouth shop will be closed on Saturday, October 19 for the NOB Ride.