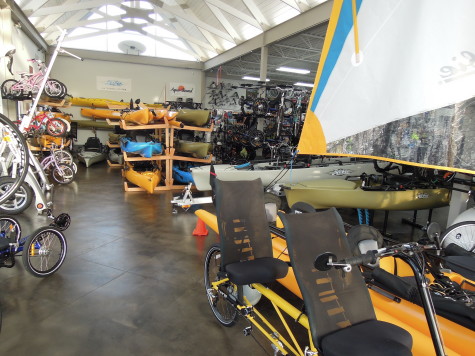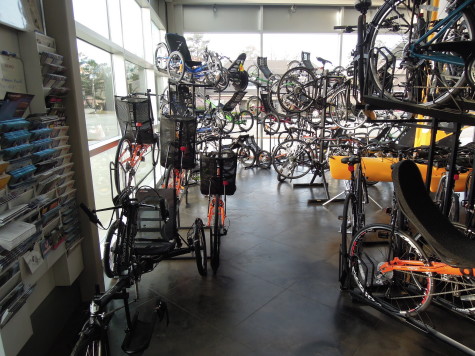 Good Morning
As this day begins, we snapped a few photos to give you an idea of what we face today. RideSouth has twice the inventory we have had in Decembers past. We have over forty recumbent trikes and many used bikes and trikes. We have the most popular recumbent bikes in the world and some that are on the way to challenging all others. We have a velomobile, or two, and more coming.
We have excellent cruiser bikes that are better than the once popular Townies we introduced to our area over sixteen years ago. Marin and Fuji make some awesome, light bikes that you have to try to believe as well as some great mountain bikes. We have Masi full carbon road bikes on sale.
We have brand new Hobie Kayaks of every model, even the new Pro Angler Tandem. We have numerous last year's kayaks at greatly reduced prices and quite a few used kayaks that are in excellent condition. We have kayaks from Evoke and Sundolphin on order, that are a better value, and less expensive, than any other kayak you can find.
There is much more in store, including kid's bikes, commuter bikes, hybrids and special needs bikes. Also, we have stocked up on shoes, helmets, lights and pedals, all excellent Christmas gifts. Gift certificates are also available.
We would like to take a few days off for Christmas, so we have a week for you to put a wrap on your RideSouth present to your loved ones, or yourself. We will do everything in our power to make your Christmas, indeed, a Good Morning!